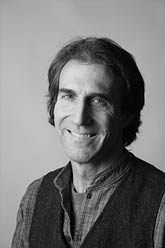 Jim Schley is a writer, theater artist, and teacher who works as a writing instructor for Community College of Vermont and as managing editor for the book publisher Tupelo Press. His newest book is the collection of poems As When, In Season (Marick Press, 2008).
Born and raised in Wisconsin, Jim Schley moved to New England in the mid-1970s to attend Dartmouth College, where he majored in Creative Writing and Native American Studies. He earned a Master of Fine Arts from Warren Wilson College's MFA Program for Writers and for many years worked as a literary editor and toured extensively with experimental and activist theater companies, including the world-renowned Bread and Puppet Theater, the Swiss ensemble Les Montreurs d'Images, and Flock Dance Troupe. He is former co-editor of New England Review and editor of the anthology Writing in a Nuclear Age and of more than a hundred books on a diversity of subjects. After a sudden change of fortune he became an extreme freelancer and had twenty-four part-time jobs in one year, an experience described in an essay written for Newsweek magazine (pdf here). His poems and essays have been featured in Ironwood, Crazyhorse,  Rivendell, and Orion, on Garrison Keillor's radio show "The Writer's Almanac," in Best American Spiritual Writing, and in a chapbook, One Another (Chapiteau, 1999). An associate member of the journalists' collective Homelands Productions, from 2006 through 2008 he was executive director of The Frost Place, a museum and poetry center based at Robert Frost's historic farm in Franconia, New Hampshire. He is now Managing Editor of the literary book publisher Tupelo Press and he teaches writing to adult students for Community College of Vermont. Jim lives with his wife and their daughter in a house they built themselves on an off-the-grid cooperative in Vermont.
Jim Schley's newest publication is a full-length book of poems: As When, In Season (Marick Press, 2008).
Download a publicity photo here...
Read Jim Schley's POETRY INTERNATIONAL essay on the revolutions of 1989 and the poet Zbigniew Herbert.
You can listen to Jim Schley's interview with Bonnie North of Milwaukee Public Radio.

To view a video of Jim Schley reading or hear his Milwaukee Public Radio interview, please visit the website of Marick Press, where you can also order an autographed copy of his book:
http://www.marickpress.com/online-catalog/books/108-as-when-in-season