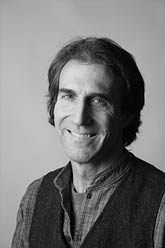 Jim Schley is a writer, editor, and teacher who has edited nearly two hundred books in a wide variety of fields and genres. He is a visiting scholar for the Vermont Humanities Council, regular contributor to Seven Days magazine, and currently editing and proofreading for some of America's finest literary book publishers.
Born and raised in Wisconsin, Jim Schley moved to New England in the mid-1970s to attend Dartmouth College, where he majored in Literature and Creative Writing with a minor in Native American Studies. He also earned a Master of Fine Arts from Warren Wilson College's MFA Program for Writers.
For many years Jim has worked as a book editor. He is former co-editor of New England Review and editor of the anthology Writing in a Nuclear Age. As managing editor then editor-in-chief at Chelsea Green, he helped reshape that company's list to be the country's leading collection of books about applied ecology and sustainable living, including milestone guides to organic gardening and farming, natural building techniques, and renewable energy, along with literary books about human relations with the natural world. For a New York Times feature and interview, see here. Jim has also worked as an editor at University Press of New England and for ten years (from 2008 through 2018) as managing editor of Tupelo Press.
After a sudden change of fortune he became an extreme freelancer and took on twenty-four part-time jobs in one year, an experience described in an essay written for Newsweek magazine.
Jim's poems, essays, and interviews have been featured in Seven Days (articles archived here), Poetry International, Northern Woodlands, Mother Earth News, Orion, New England Review, Pittsburgh Post-Gazette, Valley News, Vermont, Ironwood, Crazyhorse, and Rivendell, on Garrison Keillor's radio show "The Writer's Almanac," in Best American Spiritual Writing, and in musical settings, including choral composer Paul Carey's "Now to Sleep" and jazz pianist and composer's Lynne Arriale's "Give Us These Days."
From 2006 through 2008, Jim was executive director of The Frost Place, a museum and poetry center based at Robert Frost's historic farm in Franconia, New Hampshire, a role described in an essay for Image magazine.
Jim has also performed and toured internationally with several experimental and activist theater companies, including the world-renowned Bread and Puppet Theater and the Swiss ensemble Les Montreurs d'Images, and in New England with Flock Dance Troupe, Signal & Noise, and the Parish Players.
Also a longtime teacher, Jim has taught composition, creative writing, and Native American histories and cultures for Community College of Vermont, and continues to be very active as a visiting scholar and book-discussion facilitator for the Vermont Humanities Council; for a list of the books on which Jim is prepared to lead discussions, see here. Jim is also co-host of the Town House Forum, an annual series of readings and conversations with authors.
Currently Jim is doing editorial work for some of America's most adventurous and innovative book publishers, including New Directions, Archipelago, Milkweed Editions, and Wesleyan University Press, and also working directly with individual writers. As an associate member of the journalists' collective Homelands Productions, Jim is in the process of completing a co-authored nonfiction book about an eagle feather headdress and a friendship of four decades.
Jim is author of the poetry chapbook One Another (Chapiteau Press, 1999) and a full-length book of poems, As When, In Season (Marick Press, 2008).
Download a publicity photo here.
Read Jim Schley's remembrance of befriending writer Janey McCafferty while working at New England Review in the journal's Fortieth Anniversary gathering of essays by former editors.
Read Jim Schley's Poetry International essay on the revolutions of 1989 and the poet Zbigniew Herbert.